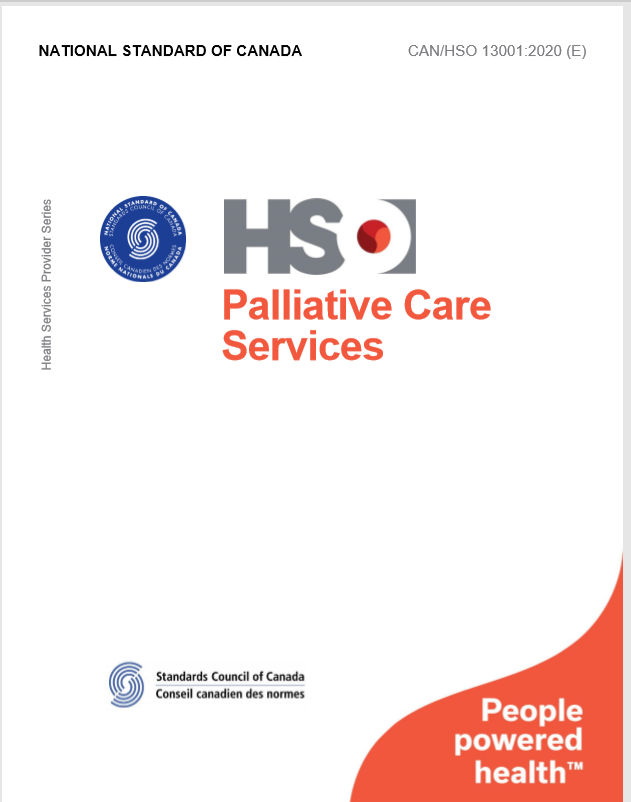 Palliative Care Services - CAN/HSO 13001:2020(E)
---
Preface
CAN/HSO 13001:2020 (E) Palliative Care Services standard is an update to the HSO 13001 (E) Hospice, Palliative, End of-Life Services standard, published in 2011. The standard was initially developed for facilities that offered palliative and end-of-life services and had a minimum of 10 beds, such as acute care organizations and long-term care facilities. In this 2020 edition, the scope has been broadened to include home and community care organizations that provide care in a client's home and in community settings, and the ten-bed minimum has been removed. Additionally, the standard now focuses solely on adult populations, and terminology to reflect hospice care has been added.
The criteria in the standard are grouped into five sections, as follows:
1 – Building a prepared and competent team
2 – Providing safe and effective services
3 – Providing an enabling and supportive environment for the delivery of people-centred palliative care services
4 – Designing and delivering coordinated services that meet the palliative care needs of clients, families, and/or caregivers
5 – Providing on-going support and services.
This standard will be undergoing a periodic maintenance. HSO will review and publish this standard on a schedule not to exceed five years from the date of publication.
Standard Type: This standard is intended to be used as part of a conformity assessment.
The technical content of the standard consists of clauses, criteria, and guidelines.
Clause: Introductory statement for a set of criteria. It is not a goal statement.
Criterion: A requirement that is to be evaluated. May be referred to as a sub-clause.
Guideline: Additional information to help understand the criterion. It does not contain new information of evaluation content.
Scope
Purpose
The purpose of CAN/HSO 13001:2020 (E) – Palliative Care Services is to provide organizations with evidence-based guidance on how to deliver high-quality and safe palliative care and end-of-life services to clients, families, and/or caregivers. The standard is intended to be used in conjunction with appropriate jurisdictional regulations and applies to all settings where palliative care services are delivered, including hospitals, hospices, and in the home and community settings.
CAN/HSO 13001:2020 (E) – Palliative Care Services targets adult populations with life-limiting or serious illness who need palliative care services. The standard provides evidence-based guidance on improving quality of life, reducing physical and psychological symptoms, supporting families and/or caregivers, and ensuring clients have a peaceful and dignified death. Special attention is paid to the role of the client's involvement in their own care planning, and the involvement of families and/or caregivers throughout the continuum of care.
Applicability
CAN/HSO 13001:2020 (E) – Palliative Care Services specifies requirements for hospitals, hospices, long-term care facilities, home care and community organizations that provide palliative care services to adult populations. While it is not within the scope of this standard to address the palliative care needs of paediatric populations, the criteria can be extended to this population, where applicable.
It is an evidence-based tool to help all organizations improve safety and quality of care for clients receiving palliative care services.
---
HSO is an independent, not‑for‑profit corporation and is registered in Canada as a charity, in accordance with Canada Revenue Agency rules, with a mandate to enable and empower people around the world to continuously improve quality of care.
While designated as a Standards Development Organization by the Standards Council of Canada (SCC), HSO operates independently from SCC. HSO does not receive ongoing funding from SCC, other crown corporations of Canada, or federal or provincial entities.
HSO charges a nominal fee to help offset the associated costs of development and maintenance of HSO standards, as most HSO standards are self-funded.
If cost is a barrier to accessing an HSO standard, please email publications@healthstandards.org and a team member will assist you.
Standards available for purchase through this E-Store are considered HSO standards and must only be used in accordance with applicable HSO Terms of Use or client agreement and are not applicable for assessment purposes. If you are part of an assessment program such as the Qmentum accreditation program, with one of our partners including Accreditation Canada, Qualicor Europe, IQG, or IQMH, your assessment body will provide you with the assessment standard prior to the standard being incorporated into your program and used for surveys or assessment purposes. For information on assessment standards, or to obtain the version specific to your program, please contact your assessment provider.
Standards purchased online are delivered as printable PDF downloads. If you would like a copy printed and shipped to you, please email publications@healthstandards.org.
---
Share this Product
---
More from this collection