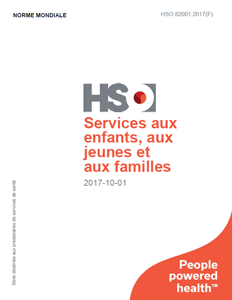 Services aux enfants, aux jeunes et aux familles - HSO 82001:2017(F)
---
Lisez la description complète de cette norme, y compris une infographie et un aperçu de la norme que vous pouvez télécharger à partir du site Web de HSO →
Cette norme est censée contribuer à l'obtention de plusieurs résultats clés pour les usagers des services d'aide à l'enfance :
Les programmes et interventions répondent à leurs besoins, sont sécuritaires du point de vue culturel, sont inclusifs et mettent à profit leurs forces.
Le point de vue de l'enfant ou du jeune est entendu, reconnu et respecté dans toute la mesure du possible et dans tous les aspects de la prestation des services.
De nombreuses possibilités sont offertes dans la communauté pour permettre aux usagers et aux familles de recevoir des services qui permettent aux enfants d'être plus en santé, d'être mieux intégrés socialement et d'avoir des résultats améliorés sur le plan de la santé et sur le plan social.
Les conflits, les crises et les urgences dans les familles sont mieux pris en charge et un processus a été établi avec l'apport des usagers et des familles.
Les personnes responsables d'un enfant en milieu familial, comme les parents de la famille d'accueil et les membres de la famille élargie assumant le rôle de parents ont une confiance plus élevée en ce qui concerne leur capacité à remplir leur rôle, car ils ont un accès accru à de la formation, du perfectionnement et des services de soutien.
Il est important que cette norme soit prise en compte par les organismes qui offrent ou supervisent des programmes et des services pour les enfants, les jeunes et les familles avec d'autres politiques et documents de référence comme ceux des Nations Unies : Convention relative aux droits de l'enfant, Eurochild (réseau d'associations militant pour les droits et le bien-être des enfants) : Compendium de pratiques inspirantes - Intervention et prévention rapides dans les familles, et organismes régionaux de services sociaux.
---
HSO is an independent, not‑for‑profit corporation and is registered in Canada as a charity, in accordance with Canada Revenue Agency rules, with a mandate to enable and empower people around the world to continuously improve quality of care.
While designated as a Standards Development Organization by the Standards Council of Canada (SCC), HSO operates independently from SCC. HSO does not receive ongoing funding from SCC, other crown corporations of Canada, or federal or provincial entities.
HSO charges a nominal fee to help offset the associated costs of development and maintenance of HSO standards, as most HSO standards are self-funded.
If cost is a barrier to accessing an HSO standard, please email publications@healthstandards.org and a team member will assist you.
Standards available for purchase through this E-Store are considered HSO standards and must only be used in accordance with applicable HSO Terms of Use or client agreement and are not applicable for assessment purposes. If you are part of an assessment program such as the Qmentum accreditation program, with one of our partners including Accreditation Canada, Qualicor Europe, IQG, or IQMH, your assessment body will provide you with the assessment standard prior to the standard being incorporated into your program and used for surveys or assessment purposes. For information on assessment standards, or to obtain the version specific to your program, please contact your assessment provider.
Standards purchased online are delivered as printable PDF downloads. If you would like a copy printed and shipped to you, please email publications@healthstandards.org.
---
Share this Product
---
More from this collection