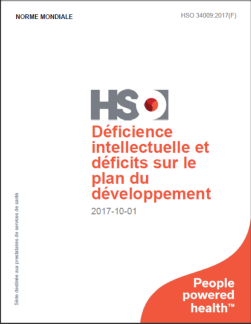 Déficience intellectuelle et déficits sur le plan du développement - HSO 34009:2017(F)
---
Lisez la description complète de cette norme, y compris une infographie et un aperçu de la norme que vous pouvez télécharger à partir du site Web de HSO →
La surveillance et l'évaluation des programmes et des services, de même que l'amélioration de la qualité, sont essentielles pour déterminer le degré de réussite des programmes et des services. La surveillance des services doit se faire de manière formelle, par l'entremise d'instruments, et de manière informelle par des discussions avec la personne atteinte de DIDD et les membres de sa famille. L'évaluation peut porter sur différents sujets et différents éléments, selon ce que l'organisation souhaite évaluer. La surveillance peut se faire à l'échelle d'une unité, d'une organisation, à l'échelle nationale ou même internationale. Suivant une période de surveillance, les résultats doivent être évalués et utilisés aux fins d'amélioration de la qualité. Globalement, il existe de nombreux indicateurs de la qualité des services aux personnes atteintes de DIDD; la surveillance, l'interprétation des résultats et l'utilisation des éléments probants dans la prestation des services et des soutiens sont importantes pour une amélioration continue de la qualité.
Les facteurs clés qui illustrent la réussite sont :
Amélioration de la qualité de vie des personnes atteintes de DIDD et des membres de leur famille.
Les personnes atteintes de DIDD ont le sentiment qu'elles prennent les décisions relatives à leur vie.
Les personnes atteintes de DIDD se sentent incluses dans leur collectivité, dans la mesure où c'est un objectif qu'elles se sont fixé.
Réduction du nombre d'incidences liés à la sécurité.
Réduction du délai d'attente pour les services.
---
HSO is an independent, not‑for‑profit corporation and is registered in Canada as a charity, in accordance with Canada Revenue Agency rules, with a mandate to enable and empower people around the world to continuously improve quality of care.
While designated as a Standards Development Organization by the Standards Council of Canada (SCC), HSO operates independently from SCC. HSO does not receive ongoing funding from SCC, other crown corporations of Canada, or federal or provincial entities.
HSO charges a nominal fee to help offset the associated costs of development and maintenance of HSO standards, as most HSO standards are self-funded.
If cost is a barrier to accessing an HSO standard, please email publications@healthstandards.org and a team member will assist you.
Standards available for purchase through this E-Store are considered HSO standards and must only be used in accordance with applicable HSO Terms of Use or client agreement and are not applicable for assessment purposes. If you are part of an assessment program such as the Qmentum accreditation program, with one of our partners including Accreditation Canada, Qualicor Europe, IQG, or IQMH, your assessment body will provide you with the assessment standard prior to the standard being incorporated into your program and used for surveys or assessment purposes. For information on assessment standards, or to obtain the version specific to your program, please contact your assessment provider.
Standards purchased online are delivered as printable PDF downloads. If you would like a copy printed and shipped to you, please email publications@healthstandards.org.
---
Share this Product
---
More from this collection