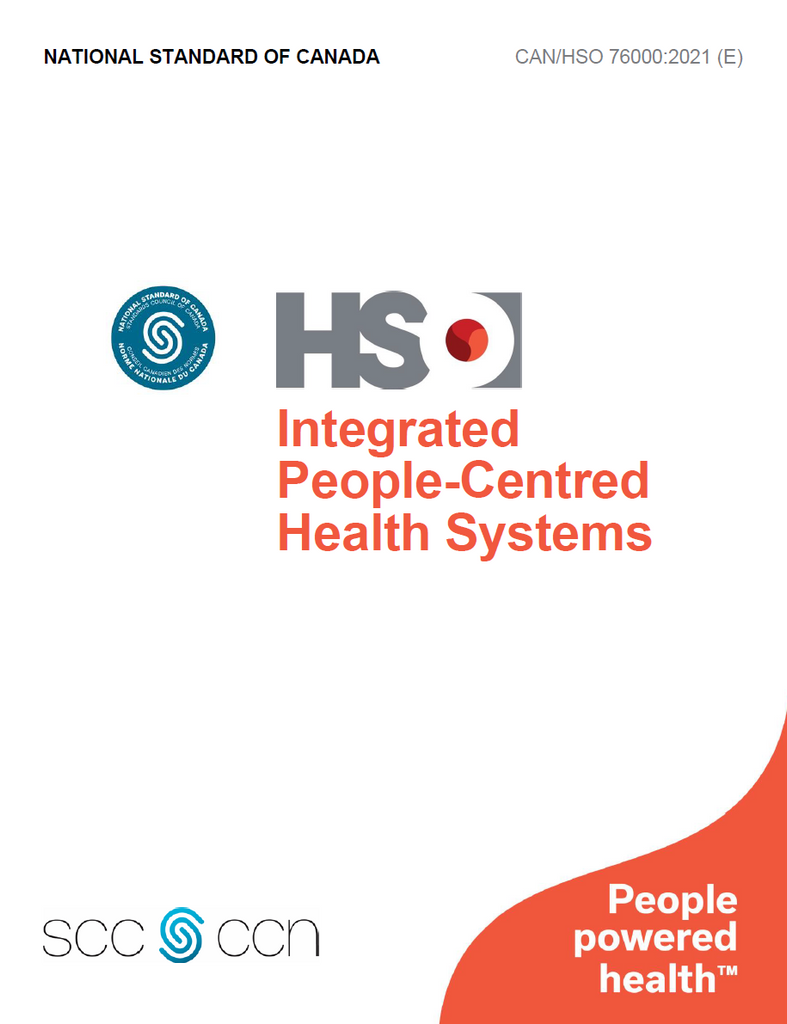 Integrated People-Centred Health Systems - CAN/HSO 76000:2021(E)
---
What's covered:
This first edition of Health Standard Organization's (HSO) CAN/HSO 76000:2021(E) Integrated People-Centred Health Systems standard outlines evidence-informed requirements to design, implement, and evaluate integrated health and social service systems.
For optimal operationalization, CAN/HSO 76000:2021(E) is to be used in conjunction with other HSO implementation tools, products, and services that enable users to achieve their integration goals and outcomes.
Who this standard is for: 
CAN/HSO 76000:2021(E) Integrated People-Centred Health Systems is intended for Canadian and international health and social service systems, and is for use by policy makers and system partners including sectors that address the social determinants of health (SDH).
This standard is targeted to policy makers and system partners that are responsible for funding, planning, coordinating, delivering, and evaluating integrated health and social services in a designated geographic area or jurisdiction.
Recognizing that health systems are at different stages of their integration journeys, the standard is designed to be adapted to local contexts and needs and can be used to inform the design and implementation of various integration strategies.
The standard is not intended to be used as part of a conformity assessment. It is intended to be used as a tool to guide effective implementation of integrated people-centred health systems and to evaluate the progress of implementation.
About the content: 
The standard is divided into the following 10 design principles, each of which addresses an aspect of health and social service integration. The design principles consist of criteria and guidelines that outline preliminary requirements for effective health system integration.
Define the population and identify desired health and well-being outcomes
Coordinate a comprehensive continuum of programs and services
Optimize access, flow, and transitions
Enable and support people-centred care teams
Develop and strengthen system leadership
Establish shared governance and clear accountabilities
Align funding and incentives
Implement interoperable information systems
Measure and manage performance based on impact
Embed an adaptive learning culture
The technical content of the standard consists of clauses, criteria, and guidelines.
Clause: Introductory statement for a set of criteria. It is not a goal statement.
Criterion: A requirement that is to be evaluated. May be referred to as a sub-clause.
Guideline: Additional information to help understand the criterion. It does not contain new information of evaluation content.

This standard has up to three levels of guidelines for each criterion directed at different audiences: Policy Makers and System Partners, only Policy Makers, only System Partners. Where no guidelines applied to a specific audience, the heading was removed. 
This standard will be undergoing a periodic maintenance. HSO will review and publish this standard on a schedule not to exceed five years from the date of publication. 

---
HSO is an independent, not‑for‑profit corporation and is registered in Canada as a charity, in accordance with Canada Revenue Agency rules, with a mandate to enable and empower people around the world to continuously improve quality of care.
While designated as a Standards Development Organization by the Standards Council of Canada (SCC), HSO operates independently from SCC. HSO does not receive ongoing funding from SCC, other crown corporations of Canada, or federal or provincial entities.
HSO charges a nominal fee to help offset the associated costs of development and maintenance of HSO standards, as most HSO standards are self-funded.
If cost is a barrier to accessing an HSO standard, please email publications@healthstandards.org and a team member will assist you.
Standards available for purchase through this E-Store are considered HSO standards and must only be used in accordance with applicable HSO Terms of Use or client agreement and are not applicable for assessment purposes. If you are part of an assessment program such as the Qmentum accreditation program, with one of our partners including Accreditation Canada, Qualicor Europe, IQG, or IQMH, your assessment body will provide you with the assessment standard prior to the standard being incorporated into your program and used for surveys or assessment purposes. For information on assessment standards, or to obtain the version specific to your program, please contact your assessment provider.
Standards purchased online are delivered as printable PDF downloads. If you would like a copy printed and shipped to you, please email publications@healthstandards.org.
---
Share this Product
---
More from this collection