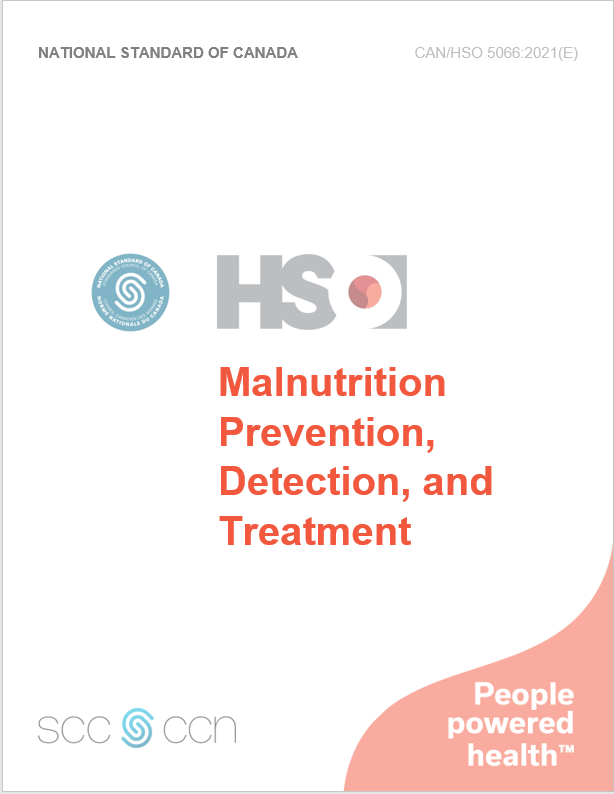 Malnutrition Prevention, Detection, and Treatment - CAN/HSO 5066:2021(E)
---
About Our Standards
HSO standards are the foundation on which leading-edge accreditation programs and great public policy are built. Standards create a strong health care structure that the public, providers, and policy makers can rely on, assuring high quality health services where it matters most.
HSO's standards are formatted using the following structure.
Subsection Title: A section of the standard that relates to a specific topic.

Clause

: A thematic statement that introduces a set of criteria.

Criteria

: Requirements based on evidence, that describe what is needed by people to achieve a particular activity. Each criterion outlines the intent, action, and accountability.

Guidelines:

Provide additional information and evidence to support the implementation of each criterion.
About This Standard
The introduction and scope sections of this standard describe its need, purpose, and applicability.
This standard will be undergoing periodic maintenance. HSO will review and publish this standard on a schedule not to exceed five years from the date of publication.  This standard is intended for conformity assessment.
This is the first edition of CAN/HSO 5066:2021(E) Malnutrition Prevention, Detection, and Treatment.
This standard outlines requirements for and provides guidance in the following areas:
Patient-centred care
Multimodal nutrition care
Nutrition risk screening
Nutrition assessment
Standard nutrition care
Advanced nutrition care
Specialized nutrition care
Early mobilization
Transitions of care
Visual pathways to optimize nutrition can be found in Annex A. 
Purpose
CAN/HSO 5066:2021(E) Malnutrition Prevention, Detection, and Treatment provides acute care organizations with best practices to prevent, detect, and treat malnutrition in adult and pediatric inpatients.
This standard addresses processes and protocols to:
Identify patients at risk of malnutrition at admission
Diagnose malnutrition
Implement an integrated nutrition care plan to prevent and treat malnutrition
Provide nutritious and culturally acceptable food and reduce barriers to food intake for patients
Monitor nutrition intake and nutrition status changes for patients
Provide treatment for malnourished patients throughout their hospital stay
Facilitate organizational changes to implement and sustain improved nutrition management
Focus on nutrition care in the discharge plan when patients are transferred to other care and community settings
Applicability
This standard provides guidance to patients and families, health care professionals, and leaders at all levels of an acute care organization. It is intended to improve the management and quality of nutrition care provided to adult and pediatric patients admitted to hospital. The standard applies to national and global acute care organizations in rural, urban, and remote areas. It is not likely to apply to patients whose care management is palliative, and these patients may be excluded at the discretion of the organization.
Adopting the standard in a complex acute care setting may be challenging. To maximize feasibility and improve timely uptake, organizations should adapt a systematic approach to changing practices based on implementation science. Implementation efforts should be guided by 1) determining who needs to do what differently; 2) assessing barriers and facilitators to change; 3) identifying intervention strategies to overcome these barriers; and 4) understanding how changes in practice can be measured (French et al., 2012).
---
HSO is an independent, not‑for‑profit corporation and is registered in Canada as a charity, in accordance with Canada Revenue Agency rules, with a mandate to enable and empower people around the world to continuously improve quality of care.
While designated as a Standards Development Organization by the Standards Council of Canada (SCC), HSO operates independently from SCC. HSO does not receive ongoing funding from SCC, other crown corporations of Canada, or federal or provincial entities.
HSO charges a nominal fee to help offset the associated costs of development and maintenance of HSO standards, as most HSO standards are self-funded.
If cost is a barrier to accessing an HSO standard, please email publications@healthstandards.org and a team member will assist you.
Standards available for purchase through this E-Store are considered HSO standards and must only be used in accordance with applicable HSO Terms of Use or client agreement and are not applicable for assessment purposes. If you are part of an assessment program such as the Qmentum accreditation program, with one of our partners including Accreditation Canada, Qualicor Europe, IQG, or IQMH, your assessment body will provide you with the assessment standard prior to the standard being incorporated into your program and used for surveys or assessment purposes. For information on assessment standards, or to obtain the version specific to your program, please contact your assessment provider.
Standards purchased online are delivered as printable PDF downloads. If you would like a copy printed and shipped to you, please email publications@healthstandards.org.
---
Share this Product